The logo of the St. Johns High School Redskins, one of two high schools in the state, with Red Mesa High School, with that nickname for their athletic teams. While some are offended by the name, officials at both schools defend it. Photo/St. Johns High School
Stories this photo appears in: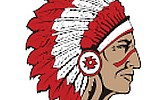 Amanda Blackhorse is outraged when she thinks of the Washington Redskins, a team whose name and mascot are deeply offensive to the Navajo woman.
By Michelle Peirano
May 7, 2013