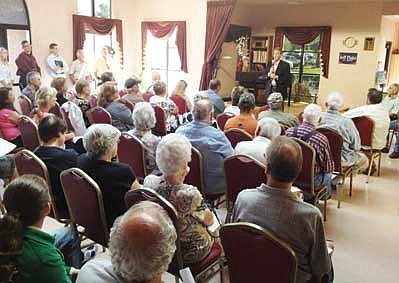 U.S. Rep. Jeff Flake met with 100 Page residents to express his concern that the federal Environmental Protection Agency is requiring state power plants to install expensive new pollution controls while overlooking recommendations by the State of Arizona as required by law. Navajo Nation officials told him they want to see NGS remain open because they are concerned about Navajo jobs. Photo/George Hardeen
Stories this photo appears in: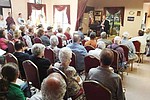 PAGE, Ariz. - U.S. Rep. Jeff Flake told residents here that he is frustrated by federal Environmental Protection Agency (EPA) decisions that cut the state out of the regulatory process, impose billion dollar retrofits on power plants and threaten thousands of Arizona jobs.More than 100 people filled the Page Senior Center Sept. 5 to meet the six-term Republican congressman and to hear what may be in store for their small town.
By George Hardeen
September 11, 2012