The Winslow Bulldogs fight hard against the Snowflake Lobos Sept. 28 in Winslow. Todd Roth/NHO
Stories this photo appears in: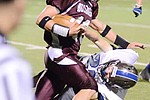 WINSLOW, Ariz. - The Snowflake Lobos defeated the Winslow Bulldogs 43-17 in Winslow on Sept. 28. The win improved Snowflake's record to 4-2 for the season and dropped Winslow's to that same 4-2 mark.
By Navajo-Hopi Observer
October 2, 2012