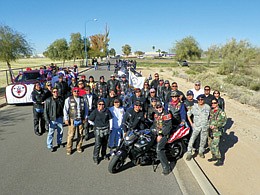 Navajo Hopi Honor Riders will take to the highways and reservation area roads for three days May 15-17 honoring and reminding the watchful public of the sacrifice and heroism of all American soldiers in active and non-active duty. Here, more than 300 current Navajo Hopi Honor Riders take a break at Sacaton, Ariz.
Stories this photo appears in:
TUBA CITY, Ariz. - As tragic events unfolded on Sept. 11, 2001 when thousands of civilians were killed in the New York financial district by enemy attack and war stepping up with more and more U.S. troops being deployed to Iraq to protect U.S. homeland, thousands of American Indians also joined to help with the fighting, including one Hopi-Hispanic woman from Tuba City, Ariz. - Lori Ann Piestewa.
By Rosanda Suetopka Thayer
May 15, 2012