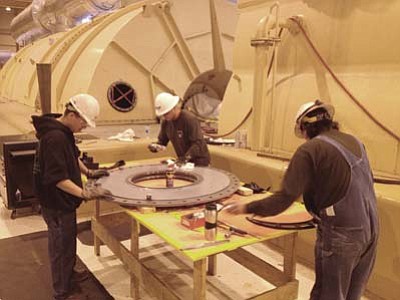 Photo/George Hardeen
From left to right, Mitchell Emerson, Myron Whitehorse and Durral Whitehorse clean a section of the "T-8" bearing oil deflector by hand. This is a critical part of the Navajo Generating Station Unit 3 turbine behind them. They are among some 800 skilled workers involved in this year's four-week-long, $16 million annual minor overhaul.

Stories this photo appears in:
Jeff Lane's job as a pipefitter and welder takes him all over the country, from California to Washington, D.C. But he says he likes it best when it brings him home to Page, Ariz., for a month or two every year.