Photo/Rick Abasta
Navajo Nation chapters participated in training for the National Incident Management System in January, which was sponsored by the Division of Community Development, Public Health Emergency Preparedness Program and the Inter-Tribal Council of Arizona. However, the question remains: Is your hogan prepared in the event of an emergency?
Stories this photo appears in: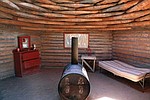 Navajo Nation chapters in all five agencies recently participated in emergency preparedness training held in conjunction with Emergency Preparedness Week Jan. 23-27, as proclaimed by President Ben Shelly.
By Rick Abasta
February 22, 2012