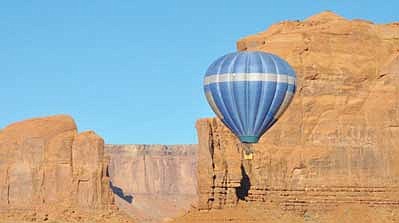 A pilot carefully guides his hot air balloon at Monument Valley Navajo Tribal Park. Photo/Roberta John
Stories this photo appears in: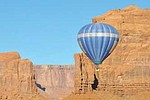 WINDOW ROCK, Ariz. - "Beautiful colors all around us." That may be the new motto for the 66th Annual Navajo Nation Fair here in the Navajo Nation capital on Sept. 2-9. When Father Sky changes from vivid blue to a calming dusk, it may be cool, but fairgoers can warm up to a hot air balloon glow on Friday and Saturday night at the Navajo Nation Fairgrounds, weather permitting. Air pilots from throughout the country will light up their hot air balloons and create a panorama of spectacular excitement.
By Roberta John
August 21, 2012