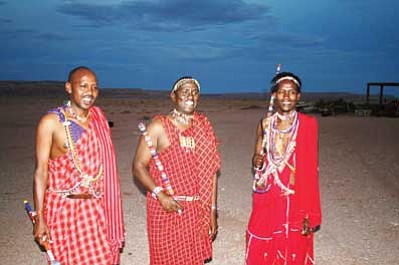 Left to right: Joshua Kiringal, Micheal Tiampati, John Kamanga. Project coordinator, South Rift Association of Land Owners of Nairbi, Kenya share stories and culture with local Navajo people. Gary Elthie
Stories this photo appears in:
Kenyan Maasai warriors explore Navajo traditions and culture during recent trip to Cameron
CAMERON, Ariz. - "The lion clawed me and threw me far!" said John Kamanga, as he showed off his scar to the small, yet amazed crowd.Kamanga, along with members from the Maasai community of Kenya, Africa is in Navajoland. The trio is here to develop the Maasai heritage program back in Kenya, a cultural exchange program designed to build upon and improve the Maasai community.