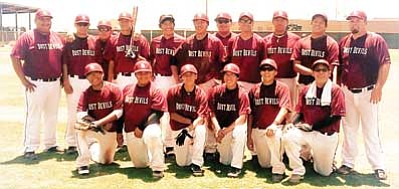 Pictured top from left are Coach Terrance Nockideneh No. 1, Cody Graham No. 4, Ryan Morgan No. 16, Tim Tsinagine No. 20, Josh Piestewa No. 45, Wyatt Tee No. 2, Branden Becenti No. 12, Shawn Deel No. 9, Jarid Slim No. 8, Carlton Robbins No. 6 and Coach Mike Hook. Pictured bottom from left are Lakota Bearshield No. 13, Nate Kitseallyboy No. 28, Brandon Roanhorse No. 24, Jeremy Yazzie No. 5 and Andrew Tso No. 3. Submitted photo
Stories this photo appears in:

Dust Devils compete in the Native American Baseball Invitational
TUBA CITY, Ariz. - During the regular school year, neighboring Tuba City High School and Greyhills Academy High School are divided by a seven foot iron wrought fence with students coming in from the same areas and they both compete in the Arizona Scholastic Association (AIA) in all areas of sports. With very competitive natures there is a depth of talented individuals, and in any competitive level, both schools don't always see eye to eye in bragging rights for Tuba City, but there comes a time when talents have to be combined and all else have to be put aside to form a team comprised of players from both sides of the fence. This summer, this feat was successful in the sport of baseball as young men formed the Dust Devils to compete in this year's Native American Baseball Invitational (NABI) July 18-21 in the Valley of the Sun.