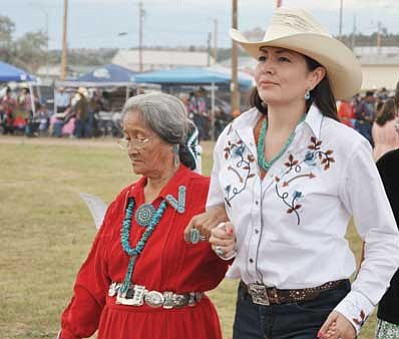 Singing and dancing are several components of the upcoming Navajo Nation Fair. Submitted photo
Stories this photo appears in:

'Appreciating Tradition' focus of 66th annual event
WINDOW ROCK, Ariz. - Nestled in the heart of the Southwest is a rich and vibrant tribe called the Navajo Nation.Whispering canyon walls....mystifying ancient architecture....picturesque mountains....relaxing lakes and rivers...towering rock formations.....an earthly scent of cedar and sage after a light sprinkle of rain....magnificent sunsets...and refreshing blue skies....this is Navajoland, a panorama of awesome scenery and captivating getaways....this is what most Navajoland visitors come to see. However, it is the Navajo people that makes Navajoland beautiful and unique.