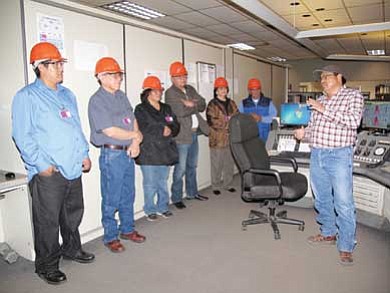 Photo/Regina Lane Tonalea Community Land Use Planning Committee members Rudy Foster, Chapter President Chester Claw, Chapter Coordinator Betty Tso, members Colbert Dayzie, Stella Claw and Henry Carr hear how the Navajo Generating Station functions from Control Room Operator Julius Fat, who has worked at the power plant for 10 years.
Stories this photo appears in:

Group learns about history, Navajo employment, pollution controls and negative impacts if NGS were to close
LECHEE, Ariz. - Eight Tonalea Chapter officials and staff visited the Navajo Generating Station (NGS) to learn how it operates, how it benefits area communities and their residents, and what impacts would occur should it close.The Tonalea Community Land Use Planning Committee became the first chapter organization this year to request a tour of the power plant, meet its employees and have questions answered by the people who do the work. The group visited the outdoor coal yard, walked alongside the massive indoor turbine deck where electricity is made, went up to the 203-foot level at the highest point of the plant, and saw the control rooms and water laboratory.