Dr. Robert A. and Ruth Roessel
Stories this photo appears in: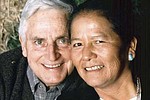 CORTEZ, Colo. - Ruth Roessel, a visionary in Navajo education, author, community leader, and champion of Navajo teachings died early Friday, April 13, 2012, in Cortez, Colo., after a brief illness. She was 77.She was born in Round Rock, Ariz., in 1934. As a girl she attended Bureau of Indian Affairs boarding schools. The experience, which she did not enjoy because of long periods of separation from her family, led her and her late husband, Dr. Robert Roessel Sr., to formulate groundbreaking concepts in Navajo education and self-determination, which emphasized a western-styled curriculum blended with Navajo history, culture and language.
By George Hardeen
April 16, 2012