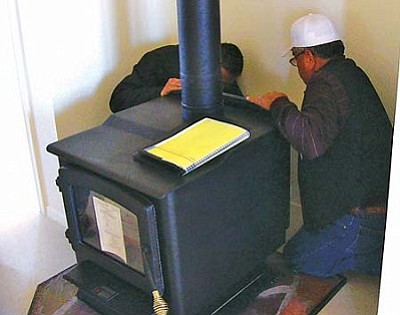 S.W. Benally/NHO
Navajo Housing Authority inspectors leave no stone unturned to ensure that the Begay family receives a safe home up to code.
Stories this photo appears in:

PINON, Ariz. - Thomas Gorman, Veterans Service Officer with the Department of Navajo Veterans Affairs (DNVA) in Chinle, is at the center of a group of people completely focused on the new Structural Insulated Panels System (SIPS) highly energy Green Build efficient homes. One of these homes was built for Navajo veteran Terrence Begay, his wife and their seven children. The home is the first DNVA-supported project in the area to use SIPS.