Courtesy photo
The backdrop of Window Rock can be seen amidst a sea of motorcycles and riders comprising the Navajo Hopi Honor Riders, who regularly travel throughout the Navajo and Hopi reservations to honor military veterans and their families. They will be participating in the Fourth of July parade in the community of Tusayan this year.
Stories this photo appears in: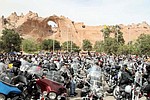 GRAND CANYON, Ariz. - Holidays honoring war veterans have always produced parades, memorials, and department store sales, but the Navajo Hopi Honor Riders, Inc. (NHHR) have committed to something greater - to support and honor all military service personnel, past and present, year round. The Honor Riders will take part in this year's Tusayan Fourth of July parade.
By Clara Beard
March 8, 2011