Wells Mahkee Jr./NHO
Attendees of the inaugural Hopi Agricultural Expo and photo exhibit on Jan. 22 were treated to a feast of Hopi traditional foods following a buffalo dance performance outside the Moenkopi Legacy Inn and Suites.
Stories this photo appears in: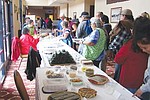 UPPER MOENKOPI, Ariz. - The Hopi Reservation is located in one of the most arid regions of the American Southwest. Amidst these harsh conditions, however, the Hopi people thrived for centuries, cultivating the land and refining the Hopit Qatsimkiwa'at'a (Hopi way of life) long before the arrival of the first Europeans. On Saturday, Jan. 22, the storied legacy of Hopi farming was celebrated with a photo exhibit and agricultural expo at the Moenkopi Legacy Inn and Suites. The Legacy Inn, along with the Natwani Coalition, partnered in an effort to bring more awareness to a practice that has been the foundation of Hopi culture for generations.
By Wells Mahkee Jr.
February 1, 2011