Todd Roth/NHO
A Window Rock Lady Scout player shoots against a Winslow Lady Bulldog defender. The Lady Scouts beat the Lady Bulldogs with a final score of 61-51. The teams will face each other again in Window Rock on Thursday.
Stories this photo appears in: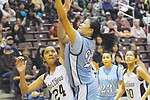 WINSLOW, Ariz. - The Window Rock and Winslow varsity basketball teams split their games in Winslow on Saturday. The Window Rock girls won and improved their record to an outstanding 23-1 for the season and they remained undefeated in the 3A North Region. The Winslow boys won their game and improved to 22-6 for the season.