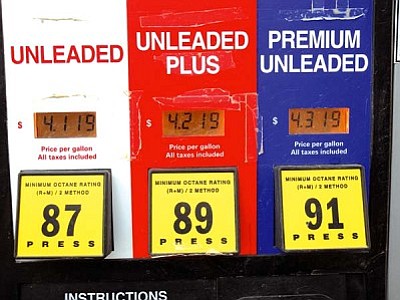 Rosanda Suetopka Thayer/NHO
Gas prices at the Hotevilla Co-op store have gone up again in just the past two weeks. Freight and local excise tax contribute to increasing gas prices on the Hopi and Navajo reservations, especially during the summer tourist months.
Stories this photo appears in:
A lot of Hopi and Navajo community members didn't think they'd see the spike in gas prices so soon after last year's run of high end gas products. But the instability of both Libya and Egypt in the current per barrel cost of crude oil, coupled with the cost of exporting oil to the United States, are quickly adding up to make buying gasoline an extremely expensive proposition.