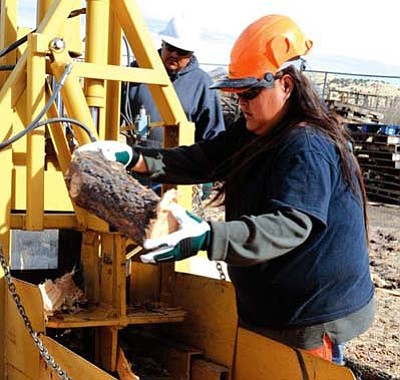 Kate Dorrell, ERI/NAU
Anjelita Apachito is the safety officer for the Alamo Navajo Project. From this small lumberyard in Socorro, N.M., she and others are carving a wood products niche out of small-diameter trees that few people wanted.
Stories this photo appears in:

FLAGSTAFF, Ariz. - Hope for forests and communities at risk is spreading like wildfire in an isolated village south of Albuquerque, N.M. Northern Arizona University ecologists say what's happening on the Alamo Navajo Reservation could well be a model for forest restoration across the Southwest where there are too many trees and not enough jobs. In a small lumberyard in Socorro, N.M., young adults are learning how to cut down trees, operate logging equipment and split firewood. Nearby is the Cibola National Forest, unnaturally thick with pinyon and juniper trees. The area is considered New Mexico's most dangerous place for homes and businesses during fire season.