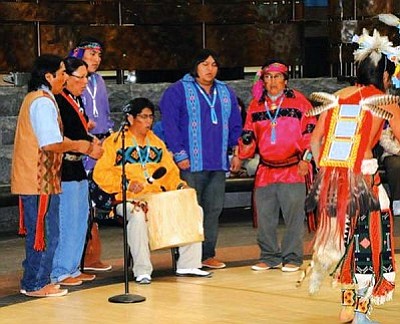 Courtesy photo
David Jensen, D'Armon Kootswatewa, Honwisiwma (Darold Honwisiwma), Tsu'wisiwma (Arvis Myron), Ned Zeena and Albert Myron Jr. sing during a dance performance in Washington, D.C.
Stories this photo appears in:

WASHINGTON, D.C. - The Hopilavayi Unihòoyam Club - Hopi Language Club of Tuba City High School traveled to Washington, D.C. April 3-6 to perform the Butterfly Dance at the 2011 Spring Conference for the National Association for Federally Impacted Schools (NAFIS). While there, the group performed at the prestigious Smithsonian National Museum of the American Indian (NAMI).