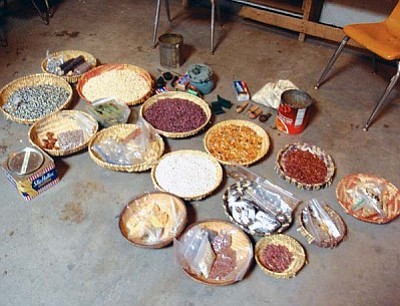 Baskets full of ancient organic Hopi seeds are blessed after the early morning run at First Mesa in Tewa Village. This year, however, due to inclement weather, the seeds had to be taken inside one of their kivas to keep them dry during the blessing, but are usually "smoked" over in the open village plaza.
Stories this photo appears in:

FIRST MESA, Ariz. - Despite a blast of winter weather that brought snow to the Hopi Reservation, the annual Historic Hopi Seed Run at Tewa Village continued as planned. It was heavily attended by runners, Hopi farmers, families and friends who want to continue the tradition of honoring the upcoming planting season by exchanging ancient Hopi crop seeds and sharing a meal featuring Hopi-grown organic foods. The three First Mesa villages - Tewa, Sichomovi and Walpi - rotate this event each year, and this year was Tewa Village's turn.