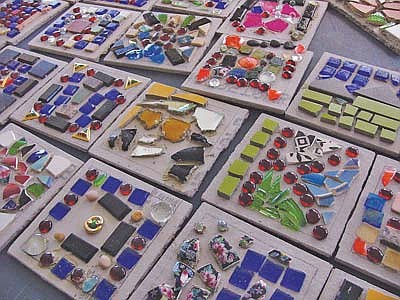 S.W. Benally/NHO
Preliminary layout of mosaic tiles made by STAR students await gluing. The tiles will be grouted and put in place; the project is expected to be completed by Thanksgiving.
Stories this photo appears in: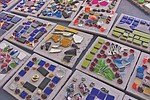 FLAGSTAFF, Ariz. - Juanita Hull-Carlson has done more than her fair share in leaving a permanent handprint on the landscape of Arizona. A master sculptor and art teacher, Carlson has led Arizona students in the creation of large, often functional, art projects, most of which have carried strong messages. Carlson, who is funded through the Arizona Commission on the Arts, returned to the STAR School to complete a project begun six years earlier - the creation of cement and found object mosaics to cover the walls of a three-tiered amphitheater.
By S.W. Benally
October 19, 2010