Rosanda Suetopka Thayer/NHO
Dr. Lomayumptewa Ishii, department chair of the AIS program at NAU, stands next to Robert Lomadafkie, current resident Hopi elder, who will assist with academic guidance and mentoring through new programs that will be offered at the new AIS Native Cultural Center.
Stories this photo appears in: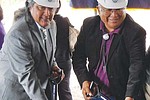 FLAGSTAFF, Ariz. - Blessed by a morning rain shower, the official ground breaking for a new Native American Cultural Center was celebrated by members of the Arizona Board of Regents, NAU President John Haeger, tribal and city officials and dozens of Native students who are currently enrolled at the NAU campus. The new building, which will house the Applied Indigenous Studies program, will be built on NAU's campus directly across from the Cline Library, to the immediate left front of the Student Union. Construction of the center will begin this fall with a grand opening slated for Fall 2011.
By Rosanda Suetopka Thayer
October 12, 2010