Rosanda Suetopka Thayer/NHO
A total of three vehicles, including the one pictured above, were damaged during a recent vandalism spree at Hotevilla. Two of the vehicles belonged to the Hotevilla village administration and the other was a school vehicle parked at the Hotevilla-Bacavi Community School.
Stories this photo appears in: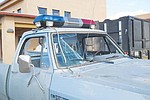 HOTEVILLA, Ariz. - This past weekend, extensive property damage occurred at several buildings in Hotevilla Village. There was damage to several windows in the Hotevilla Community Youth and Elderly Building as well as destroyed vehicle windows, a broken bathroom window at the Hotevilla post office, two broken windows at the Hotevilla Bacavi Community School and damage to an SUV parked on the school campus. One of the suspects was tracked on foot to his home where he had been hiding, but the other suspect is still at large. The apprehended individual eventually confessed to the damages.
By Rosanda Suetopka Thayer
November 30, 2010