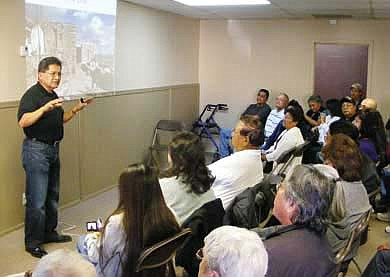 Rosanda Suetopka Thayer/NHO
Former Hopi Chairman Ben Nuvamsa, served as one of the presenters to about 50 Hopi and Tewa tribal members regarding the new Hopi Constitution Draft No. 24 who have serious concerns about the draft proposal and would like to see the federal election on its passage halted.
Stories this photo appears in: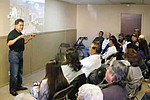 FLAGSTAFF, Ariz. - There has never been a time in Hopi history that opposing political camps have worked together - albeit, in their own separate, individual ways - to help defeat a single initiative of the Hopi Tribe. The focus of all this joint effort among three separate Hopi political camps is the newly proposed Hopi Constitution Draft No. 24A, which has recently been approved by the Bureau of Indian Affairs to go forward with a formal, federal election for possible approval by formal vote of Hopi and Tewa registered voting members in the next few months.
By Rosanda Suetopka Thayer
November 23, 2010