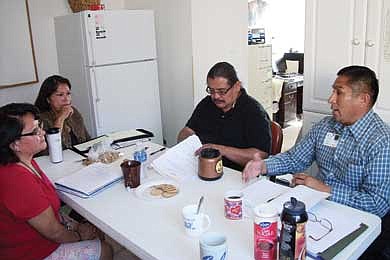 Tyler Tawahongva/NHO
Outgoing officers of HAASA (from left) include Debbie Secakuku Baker, president; Rachel Povatah, Sergeant at Arms; Kevin Nash, vice president; and, Chief William Vicente, secretary, at an officers meeting. Their terms will expire Dec. 2 at the next HAASA meeting.
Stories this photo appears in: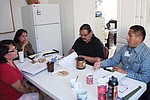 POLACCA, Ariz. - On Nov. 4 the Hopi Alliance Against Substance Abuse (HAASA) held its monthly meeting to discuss drug and alcohol concerns on the Hopi Reservation. HAASA is a grassroots community organization that was started to address substance abuse issues in the Hopi community. One of its objectives was to change Ordinance 21, which is Hopi law to include drug and alcohol as infractions of the law.