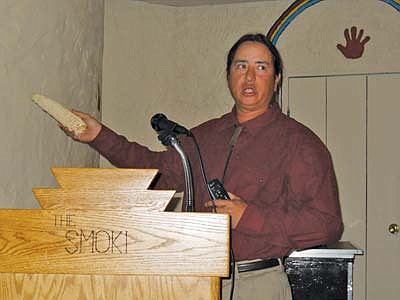 Rosanda SuetopkaThayer/NHO
Michael Kotutwa Johnson, final year doctoral student at the University of Arizona was this year's guest presenter at the Smoki Museum's annual "Three Sisters: Honoring the Elders" fundraiser dinner last week. Johnson, who is studying in the field of Environmental Science and American Indian Studies, holds a sample ear of white Hopi corn that he grew utilizing the Hopi dry-farming method on his 11 acres of farmland on the Hopi reservation.
Stories this photo appears in: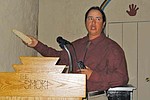 PRESCOTT, Ariz. - For the third year in a row, the Smoki Museum in Prescott and its board of museum trustees held their annual "Celebration of the Three Sisters; Honoring the Elders" dinner and lecture over the weekend of Oct. 23. Each yeat, the dinner offers a different subject topic on Native tribal culture.
By Rosanda Suetopka Thayer
November 10, 2010