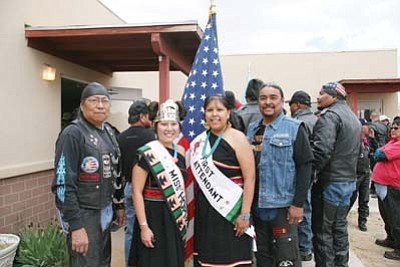 Rosanda Suetopka Thayer/NHO
Former Marine Sgt. Byron Poocha stands with Miss Hopi 2010, her First Attendant and Reggie Curry. Poocha and Curry, both of Tuba City, are two of the original Honor Riders from Tuba City who have ridden each year in honor of Lori Ann Piestewa. Piestewa's parents hosted a meal for the riders on May 18 at their home in Flagstaff.
Stories this photo appears in:

Annual Navajo, Hopi Honor Run honors Lori Piestewa, Native veterans
KYKOTSMOVI, Ariz. - Originally inspired and organized in March 2003, the Navajo Hopi Honor Riders (NHHR) group has grown from its original 15 riders to over 250 Hopi, Navajo and non-native participants. Founded by Larry Noble, Bobby Martin, and Lon and Lori Parker, the event honors the memory of Lori Ann Piestewa. The NHHR members make this annual northern Arizona motorcycle trek from Window Rock to Ganado, Keams Canyon, Kykotsmovi, Tuba City, Bird Springs, Flagstaff and back with many of the riders meeting up with other motorcycle groups who then travel to Washington, D.C. for Memorial Day.