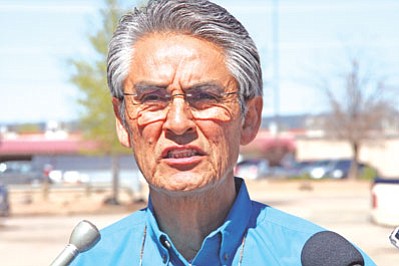 Courtesy photoPresident Joe Shirley Jr. announced last Wednesday that he would be seeking a third term as Navajo Nation President despite allegations from the Navajo Nation Council that he is in violation of Navajo Nation law that expressly prohibits him from serving more than two consecutive terms. Shirley maintains that he is seeking a third term in order to complete his work on comprehensive government reform.
Stories this photo appears in:
Speaker's office claims Shirley is ignoring Navajo Nation law
WINDOW ROCK, Ariz. - Navajo Nation President Joe Shirley Jr. filed his application to seek a third term as president of the Navajo Nation. Shirley received a clearance letter from the Navajo Nation Office of Ethics and Rules that allowed him to submit his application and filing fee to the Navajo Election Administration at 12:01 p.m. last Wednesday.