Anton Wero/NHO
The 2010 New Mexico Class 4A State Girls Basketball Champion Kirtland Central Lady Broncos: (not in order) Tasheena Tyler, Monica Yazzie, Raquel Woody, Wynonna Jim, Taylor Bennett-Begay, Olivia Harris, Ona Raymond, Karley Dodge, Taradena Mitchell, Amanda Kerr, Danielle Murdock, Meghan Yazzie, and Head Coach Charles Kromer and assistants Jaimey Tanner, Jacque Begay, Shantel Begay and Tasha Begay.
Stories this photo appears in: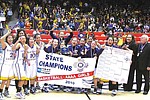 ALBUQUERQUE, N.M. - March Madness for New Mexico high schools is over, as the 2010 First Community Bank State High School Boys and Girls Basketball Championships concluded over the weekend. The rivalry between the Kirtland Central Lady Broncos (26-2) and the Shiprock Lady Chieftains (24-8) continued in the Class 4A Girls title game.
By Anton Wero
March 16, 2010