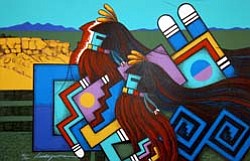 Courtesy photo
Michael Kabotie lithograph, "Rain Spirits," ©1984. On loan from Jessica Welton.
Stories this photo appears in:

'Walking in Harmony' exhibit to honors life's work of Michael Kabotie
FLAGSTAFF, Ariz. - The Museum of Northern Arizona is proud to announce a new exhibit entitled, Walking in Harmony: The Life and Work of Lomawywesa, Michael Kabotie, which opens Saturday, March 13. This exhibit of Kabotie's innovative, reflective, and spiritual paintings, prints, jewelry, and poetry will run through Sept. 12.