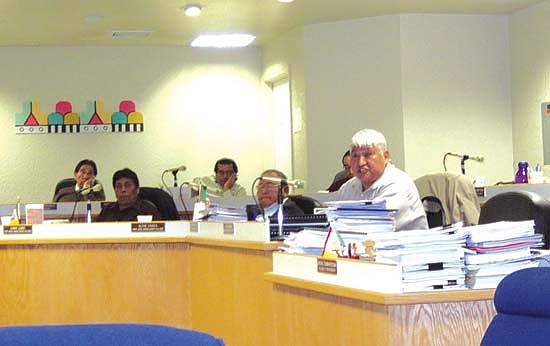 Rosanda Suetopka Thayer/NHO
Dale Sinquah (right), one of eight council members asked to step down from his Tribal Council position, turned to a room full of Hopi community members and refused to step down.
Stories this photo appears in: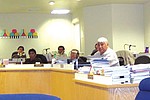 KYKOTSMOVI, Ariz. - Last week, Hopi Tribal Chairman LeRoy Shingoitewa formally requested that the eight appointed Tribal Council representatives from the villages of Mishongnovi and First Mesa step down from their council seats at the request of their respective village membership. In all, Shingoitewa asked the representatives five separate times to step down, but all refused to do so, prompting the chairman to call a recess until March 22. He also suspended the eight council members until further notice.
By Staff report
March 9, 2010