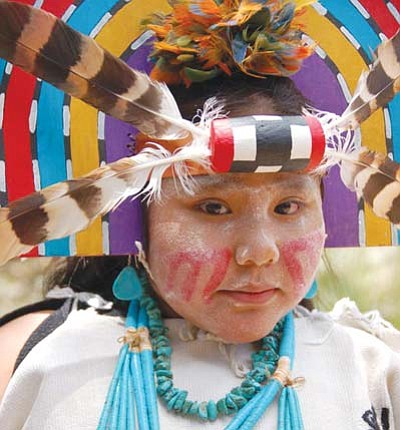 Kalaila Namoki, a dancer from the Nuvatukya'ovi Sinom Dance Group, at last year's Hopi Festival.
Stories this photo appears in:

77th annual Hopi Festival honors the late Michael Kabotie
FLAGSTAFF, Ariz. - The 77th Annual Hopi Festival of Arts and Culture returns to the Museum of Northern Arizona July Fourth weekend, bringing 75 of the top Hopi artists and demonstrators, music and dance performers, and speakers who will talk about Hopi beliefs and current issues. This year's festival will honor longtime friend of MNA and interpretive collaborator, Michael Kabotie.First held on July Fourth weekend in 1930, the Hopi Festival represents the long-standing partnership between the Hopi people and the Museum. Over the years the event has become a regional tradition for artists and collectors, alike, and for visitors seeking an authentic cultural experience at "the oldest Hopi art show in the world."