Rosanda Suetopka Thayer/NHO
The Hopi Emergency Response Team (HERT) held a weekend briefing at the Kykotsmovi Village Law Enforcement Resource Center. The teams included both state and county support agencies. Hopi Tribal Chairman Leroy Shingoitewa formally declared a state of emergency on the Hopi reservation on Jan. 21, once it became evident that last week's severe rain and snow had jeopardized Hopi lives and safety.
Stories this photo appears in: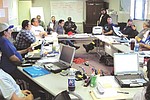 HOPI RESERVATION, Ariz. - Like the rest of Arizona, the Hopi Reservation last week was inundated with record setting snow and rainfall. As a result, Hopi Tribal Chairman Leroy Shingoitewa issued an executive order on Jan. 21, declaring the Hopi reservation a "natural disaster area and in a state of emergency..."
By Rosanda Suetopka Thayer
January 27, 2010