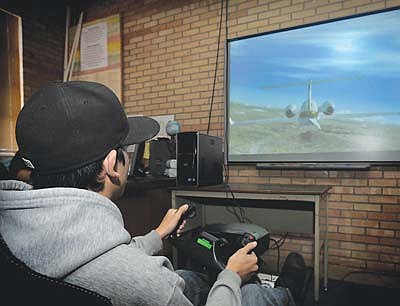 Todd Roth/NHO
Northern Arizona Academy student David Watson is shown "piloting" a Lear Jet on its way to land at the Window Rock airport. Not shown is "co-pilot" Brandon Goetschel and student coach, Domonique Attakai. The flight simulator, used in NAA's Aviation program, has full-sized aircraft controls, a variety of programs to run and almost every kind of aircraft to fly, including gliders and helicopters.
Stories this photo appears in:
WINSLOW, Ariz. - The Winslow Campus of Northern Arizona Academy, Career Development Inc., located on Airport Road adjacent to the Winslow Airport has an ongoing course of study now in Aviation. This program is being developed at NAA in cooperation with the city of Winslow. As a general introduction to the history, study, and professions of Aviation this is a progressive academic program offered to high school students in grades 9-12. This course of study is interwoven into the regular school curriculum with numerous extracurricular activities for those students involved.
By Todd Roth
December 29, 2010