Lisa Viotti/NHO
The ruins at Tuzigoot National Monument can be seen in the distance from Tavasci Marsh. Beyond the ruins lies the Mingus Mountain range.
Stories this photo appears in: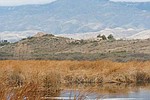 COTTONWOOD, Ariz. - This hiker has always considered Griffith Springs the best two-mile hike in Arizona, but Tavasci Marsh ranks right up there with it. Tavasci Marsh is a natural story about the circles of life. Thousands of years ago, Tavasci Marsh was part of the Verde River flow. Over time the river changed, but Tavasci Marsh remained. Now, the marsh is fed by Shea Springs, just north of the marsh, which keeps the water at 68 degrees year-round.
By Stan Bindell
December 29, 2010