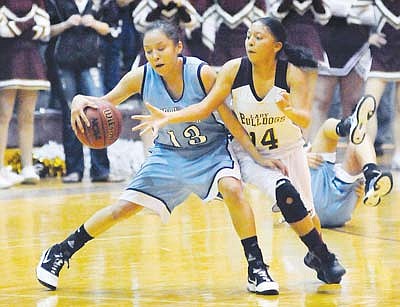 Todd Roth/NHO
A Winslow Lady Bulldog player defends against a Window Rock Lady Scout player during the championship round of the Winslow Winter Classic. The Lady Scouts emerged as the champions with a final score of 52-45.
Stories this photo appears in: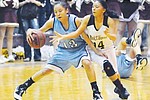 WINSLOW, Ariz. - The Championship Game of the Winslow Winter Classic saw the Window Rock Lady Scouts defeat the Winslow Lady Bulldogs 52-45 to claim the trophy. The Lady Scouts improved their illustrious record to 12-1 with the victory. Winslow fell to 8-3 for the season.
By Navajo-Hopi Observer
December 21, 2010