Tyler Tawahongva/NHO
Severe flooding in recent days has caused extensive damage to sewer and water systems as well as roads in the Polacca area. Hopi Tribal Chairman LeRoy Shingoitewa and the Navajo County Board of Supervisors issued a state of emergency for the area last week as scattered thunderstorms are expected to continue this week.
Stories this photo appears in: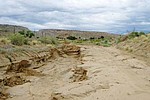 POLACCA, Ariz. - The western portion of the Hopi Reservation is under a state of emergency as declared by the Hopi Tribe and the Navajo County Board of Supervisors after torrential rains closed roads and damaged water and sewer lines. It is being reported that residents could be without water and sewage service for up to two weeks in some areas of Polacca and that full services may take up to two months to be restored. Residents who wish to report any damages or concerns are urged to call the Incident Command Post at (928) 737-0077.
By Tyler Tawahongva
August 3, 2010