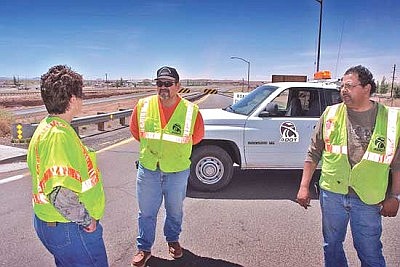 Todd Roth/NHO
Supervisor Frances Perkins, Lomel Pato, Rick Sedillo of ADOT discuss the closure of I-40 in Winslow.
Stories this photo appears in: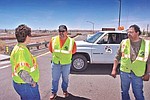 WINSLOW, Ariz. - Yesterday, reports of zero visibility conditions on Interstate 40 between Flagstaff and Winslow caused by blowing dust and wind gusts of up to 74 miles an hour prompted Arizona Department of Transportation (ADOT) officials to shut down I-40 until about 6 a.m. on Thursday. ADOT officials state that while there are currently no road closures, winds may pick up again later in the afternoon that may again cause safety concerns for northern Arizona motorists.