Courtesy photo
Forestry technician Woody Shattuck (right) shares his concerns about ecosystem health with students and Ecological Restoration Institute researchers. Shattuck is working to improve the health of this woodland forest north of Keams Canyon.
Stories this photo appears in: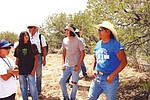 KEAMS CANYON, Ariz. - Hopi Tribe Forestry Technician Woody Shattuck spent many a summer on the Hopi Reservation with his grandfather and his grandmother. His childhood memories and respect for Hopi culture have brought him back as an adult.
By By Bonnie Stevens
September 8, 2009