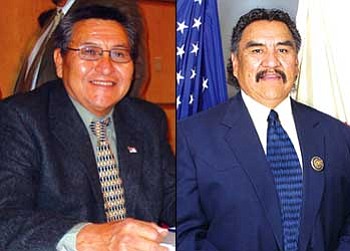 Navajo Nation Vice President Ben Shelly and Speaker Lawrence T. Morgan.
Stories this photo appears in:

On Thanksgiving Day, we gather with family and friends to give thanks for the many blessings given to us. We ask for guidance and safety for our families, our communities and our Navajo Nation. We are thankful for our homeland and all that it provides. We are thankful and hopeful our Navajo Nation will continue to be strong and continue providing for our future. Our Nation is always in the process of growing - even greater today.