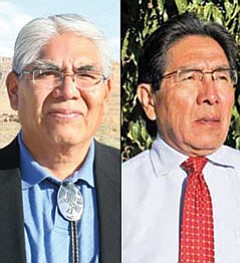 Leroy Sumatzkuku (left) and Herman G. Honanie are the final two candidates for the Hopi Vice Chairman's position after last Wednesday's primary election. They will face off in the general election on Nov. 18.
Stories this photo appears in:

KYKOTSMOVI, Ariz. - Leroy Ned Shingoitewa and Clark W. Tenakhongva were the two top vote-getters last Wednesday in the race to be Hopi Tribal Chairman. They will face off next Wednesday, Nov. 18 in the general election, according to official results released by the Hopi Election Board Nov. 5.