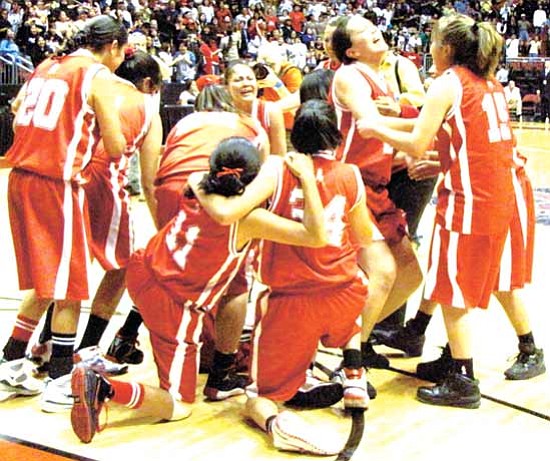 Photo by Anton Wero/NHO
WE ARE CHAMPIONS: The Monument Valley Lady Mustangs start their celebration after winning the 3A girls championship against the Winslow Lady Bulldogs with a final score of 47-46. "We told each other, play hard — good things will come," said team member Bradley Nash.
Stories this photo appears in:

Lady Mustangs beat Lady Bulldogs at final buzzer
GLENDALE, Ariz. - The Monument Valley Lady Mustangs edged out the Winslow Lady Bulldogs 47-46 on a put back shot at the buzzer by Bradley Nash at the buzzer during the Arizona State 3A Conference Tournament final game in Glendale on Saturday. The win ended Monument Valley's season with a 22-9 record and ended Winslow's season with a 29-2 record. For more 3A championship action, click on the "Sports" link above.