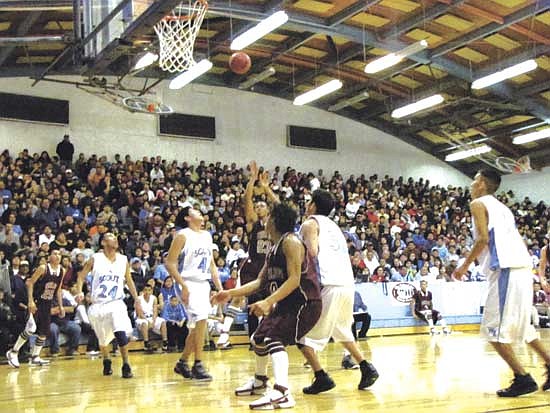 Photo by Anton Wero/NHO
The Winslow Bulldogs' Jevon Estelle (23) shoots a jumper for two points at the "Thunderdome" in Window Rock. The Bulldogs defeated the Scouts 55 to 54.
Stories this photo appears in:
WINSLOW, Ariz. - The Winslow Lady Bulldogs overcame a nine point third quarter Window Rock Lady Scout lead and defeated the Window Rock girls 46-41 in a 3A Conference quarterfinal game played on Saturday. It was Winslow's fourth victory over the Lady Scouts this season and left the Lady Bulldogs with a 28-1 record heading for the semi-finals at Glendale on Friday. Window Rock ended its season with a record of 16-10.