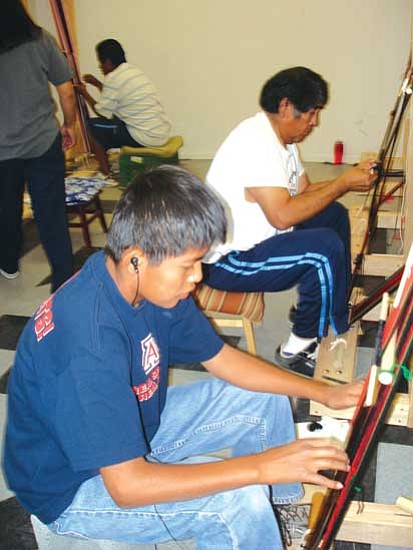 Photo by Rosanda Suetopka Thayer/NHO
A couple of students work on traditional weavings in master weaver Marvin Pooyouma's Hopi belt-weaving weaving class, which is a part of the Hopitutuquiki art school. Each student learned how to set up a traditional loom, design and finish an entire Hopi men's traditional red-black-green belt within their two week session. Pooyouma is from the village of Hotevilla.
Stories this photo appears in:

HOTEVILLA, Ariz. - Attendance at a culturally oriented summer arts program called "Hopitutuqaiki" is in so much demand for local Hopi and non-Hopi student attendees, there is now a waiting list for several of the classes being offered this summer, from June to August. The art being taught is based largely on Hopi values and focuses on Hopi students and how their learning strengths are at their optimum when using their own language and cultural learning styles.