Photo by Gary Elthie/NHO
A photo of the sacred San Francisco Peaks taken on N. Highway 89. The Peaks are held sacred by 13 Native American tribes in Arizona and New Mexico.
Stories this photo appears in: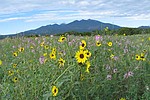 FLAGSTAFF, Ariz. - It seems to be a battle of "Peaks vs. Profits" in two neighboring states. Days after a decision in New Mexico where Mt. Taylor was placed on the State Register of Cultural Properties to protect it from exploratory drilling for uranium mining, an appeal filed to hear a case that would protect the San Francisco Peaks from further development by the Arizona Snowbowl ski resort was denied by the U.S. Supreme Court. How do YOU feel about this? Cast your vote in our online poll below.
By Staff report
June 9, 2009