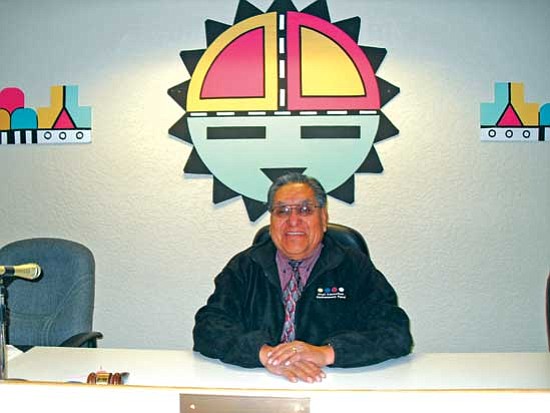 Rosanda Suetopka Thayer/NHO
Newly elected Hopi Tribal Chairman Leroy Shingoitewa sits in the Hopi Tribal Council chambers. Shingoitewa, along with newly elected Vice Chairman Herman Honanie, were sworn in Dec. 1 and have already been busy working as a team, dealing with a number of tribal issues.
Stories this photo appears in:

KYKOTSMOVI, Ariz. - Newly elected Hopi Chairman Leroy Shingoitewa of Upper Moencopi Village was officially sworn in as the new Hopi Tribal Chairman along with new Vice Chairman, Herman Honanie of Kykotsmovi. Shingoitewa was able to sit down to discuss a bit of his vision for his tribe. Editor's note: Our Web site was late in being updated due to weather-related technical issues that have been resolved. We appreciate your patience.