Courtesy photo/ADOT
Photo showing blowing dust and low visibility on Interstate 40 east of Flagstaff.
Stories this photo appears in: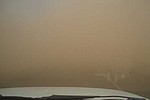 PHOENIX, Ariz. - The Arizona Department of Transportation (ADOT) has reopened eastbound and westbound Interstate 40 between Flagstaff and Winslow. The highway had been closed from the Meteor Crater Rest Area (milepost 235) to Winslow (milepost 252) due to high winds and blowing dust. Additionally, State Route 77 north of Interstate 40 has also been reopened.