Mountain lions, such as the one in this photo, can grow to an average of about 5-9 feet in length from nose to tail and can weigh between 75 and 160 pounds. Primary food sources include deer, elk, and bighorn sheep, as well as domestic cattle, horses, and sheep. Although rare, mountain lions have been known to attack humans.
Stories this photo appears in: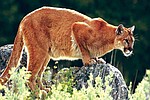 TUBA CITY, Ariz - There have been reports of three mountain lions lurking around Pasture Canyon and the area near the fairgrounds. Pasture Canyon is heavily wooded, and a place where the big cats might roam. A Tuba City Police spokeswoman said that the department has received several calls regarding mountain lion sightings. Bertha Nez-Tsosie, who runs the Tuba City Flea Market, said tracks were seen in the area of her ranch earlier last week.
By By John C. Hopkins
November 11, 2008