Sequoyah Schools' junior Aileen Holmes will travel to China as a student ambassador.
Stories this photo appears in: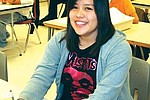 TAHLEQUAH, Okla. - China may be a long way from Tahlequah, but Sequoyah junior Aileen Holmes is looking forward to the trip. She has been selected to serve as a student ambassador with the People To People program and will spend two weeks of her summer getting an up-close and personal look at Chinese culture. "The things that we will get to see (in China) seem interesting," Holmes said. "We get to stay with a Chinese family and see how they live."