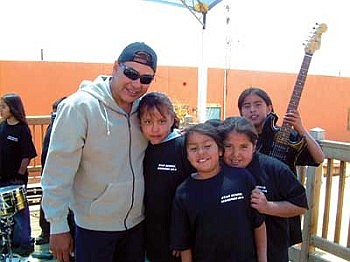 David Montour with the band Clan/destine 2 with fans Justice Smith, Larissa Luther (front), Carleena Tsiniginnie and Tyrail Smith (rear; Photo by Louva Montour).
Stories this photo appears in:
FLAGSTAFF, Ariz. - For the past two years, the Wellness Committee at the STAR School, spearheaded by Louva Montour and Loretta Jones - has addressed the growing diabetes and obesity problems in their corner of the reservation through healthier eating and exercise habits. Montour manages the kitchen as well as teaching home economics. Her sister, Jones, doubles as a teaching assistant and physical education instructor.
By S.J. Wilson
May 20, 2008